Inserts and Stoves
Do you need a stove and chimney upgrade ? Upgrade your wood stove or natural fireplace? We are specialists with 20 years of experience installing fireplace inserts and wood stoves. We carry a range of eco certified low emission burners that use real wood or pellets. Make an appointment today to visit our showroom or check out our suppliers :
---
Caps & Liner Systems
We install stainless steel chimney caps of all sizes and can have caps custom-made if needed. Rain caps protect your chimney flue and also keep animals and
Liners are required for the chimney in some cases. All gas appliances and fireplace insert systems require a liner. If your chimney is unlined, or if the lining is damaged, we can help. We install only stainless steel lifetime guaranteed liner systems. All liners include a chimney cap with screen and flashing.
Lock-Top cap
Ask us about the Lock-Top cap, which saves you money on heating bills by forming an airtight seal at the top of your chimney when it is not in use.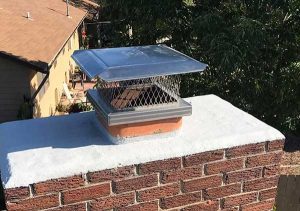 ---
Crowns & Flashing
The crown is one of the most important aspects of a chimney ! A proper crown acts as an umbrella, protecting your chimney from the damaging effects of water. We offer custom-made metal crowns or poured concrete crown options. We can also repair or custom make roof flashing to streamline and protect the area between the roof and chimney.